Dixiefrog fêtera en avril 2006 ses 20 ans d'existence.
La grenouille du Sud aura tout au long de ces années collaboré avec beaucoup d'artistes américains et européens avec l'ambition de proposer à ceux qui aiment le blues une palette assez large et colorée du genre.
Elle saisit l'opportunité de cet anniversaire pour remercier tous ceux (public, artistes, musiciens, labels, médias, distributeurs, disquaires, agents, éditeurs, managers, attachés de presse, designers, photographes, talent scouts...) qui lui ont permis d'atteindre cet âge avancé (pour un batracien) et faire la fête avec vous...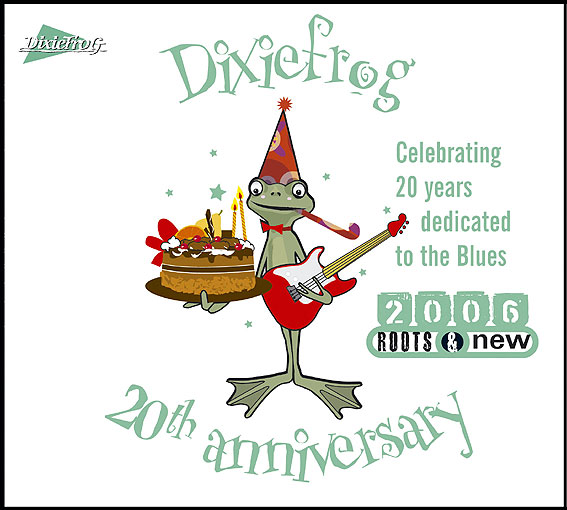 Track listing du sampler
CD1

Eric Bibb


Pura Fe' (Music Maker)


Taj Mahal


Monster Mike Welch


Duke Robillard & Ronnie Earl


Bill Perry


Magic Slim & The Teardrops


The Dusters


Cyril Lance (& Johnny Neel)


Nublues


Sol (Music Maker)


Popa Chubby


Gashouse Dave


Jimmy Tittle


Joe Sun


Blues Conspiracy (Neal Black + Leadfoot Rivet + Nico Wayne Toussaint)


George Hamilton V
CD2

Leon Redbone


Bill Wyman's Rhythm Kings


Blind Boys Of Alabama


Nico Wayne Toussaint


Rob Tognoni


Patrick Verbeke


Beverly Jo Scott


Jesus Volt


Little Bob


Steve Johnson


Van Wilks


Gwyn Ashton


Tom Principato


Amar Sundy


Qayna
Et il vous en coûtera 10 EUR ( !!! ) pour cette double galette des Rois !
À écouter et à (re)commander sur le site Dixiefrog.