Willy Willy, un grand homme du Nord de notre petit pays, comme Roland, Arno... et beaucoup d'autres. Pas assez connu dans le Sud mais cela va changer ! Car des gars pareils, des « p'tits Belges » dans son genre, on en redemande ! Et, à mon avis, il ne va pas tarder à trouver nos 30 519 km² trop exigus ! Lead Guitarist durant des années dans différents groupes (tous emblématiques) comme The Scabs, Vaya Con Dios, Arbeid Adelt !, Willy Willy a trouvé aujourd'hui sa voie comme chanteur-guitariste de The Voodoo Band, un simple trio avec Marty De Wagter à la batterie et René Stock à la basse et à la contrebasse.
Mais quel trio, qui interprète avec brio rock'n'roll et rhythm'n'blues. Et il n'est pas difficile de sentir qu'ils en sont imprégnés, qu'ils sont « tombés dedans » tout petit !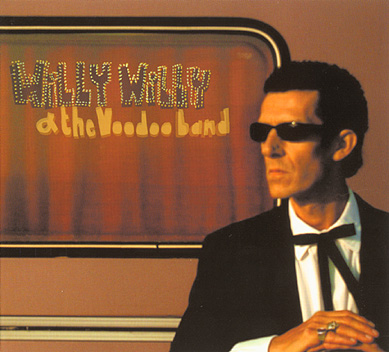 Une chose à déplorer concernant cet album : l'absence de mises en garde car le disque est potentiellement dangereux ! Il y a des mesures de sécurité à prendre avant toute écoute car la tête, les bras, les jambes vont partir dans tous les sens... Je vous aurai prévenus... Attachez votre ceinture et éloignez les petits enfants, les personnes âgées, les animaux de compagnie, les objets précieux... ! Augmentez le volume de votre ampli et, alors seulement, appuyez sur « play » ! ! !
Mr. Hot Shot, de Baker & Bland, explose, déferle... Ecoutez cette voix, cette six cordes, cette basse, cette batterie et ces cuivres...
Cela décoiffe instantanément ! Regardez votre tête dans un miroir... vous l'avez, la banane ! ! !
Let's Have A Party de Jessie Mae Robinson (1958), Walking The Dog de Rufus Thomas (1963)... Le chien aboie et la guitare de Willy Willy passe, précise et incisive. Je suis transporté dans un bar du Sud des USA... Wouaw, la voix féminine... C'est BJ Scott, la divine et merveilleuse Beverly sur Why Don't You Love Me, une composition rockabilly du trio Lambregt (Willy Willy), De Wagter et Stock qui signe également trois autres titres dans la plus pure des traditions (Voodoowomanblues, Last Call For Alcohol et The Blues Had A Baby). Daddy Rolling Stone, avec Patrick Riguelle. L'une des premières compositions de « Otis Great Balls Of Fire Blackwell », reprise notamment par The Who en 65 sur la b-side de Anyway Anyhow Anywhere. Viennent ensuite le rapide Shake, Rattle & Roll (Charles Calhoun), 300 LBS Of Joy (Willie Dixon), Miss Lucy (Willy Willy), Shaking All Over (Heath-Robinson), Shot Of R&B (Thompson), morceau sur lequel apparaît la délicieuse Dani Klein (Vaya Con Dios, Purple Prose), The Blues Had A Baby (Morganfield-McGhee)...
Well the blues had a baby and they named the baby Rock & Roll ! ! !
Un album réussi, une grande claque de fraîcheur ! Un trio de base incisif, percutant, complété par de très bons musiciens : Patrick Riguelle, Benny De Wilde, Jeroen Ravesloot, Filiep Ketels, Sam Vloemans, Jeroen Van Malderen, Tom Mahieu, Wietse Meys.
Tiens, je verrais bien mon pote Mike Sanchez accompagner Willy sur scène ! Du pur bonheur en perspective !
Some people like to rock... some people like to roll... movin' and a groovin' gonna satisfy my soul... Let's have a party... ooh let's have a party Ooh send it to the store let's... buy some more... let's have a party tonight...


Willy Willy & the Voodoo Band- Shaky 3 Records 001-2003 - Distributed by BANG !