Marie-Laure Béraud revient sous le nom de Béraud and the birds avec Dans mon salon , album dans lequel elle revisite des standards du blues et du jazz tels que As the years go passing by, Dream a little dream of me, Lover come back to me, You've changed....
Et elle ne revient pas les mains vides mais avec des musiciens de la trempe de Charles Loos au piano, Koen De Cauter au saxo et Dajo De Cauter à la contrebasse.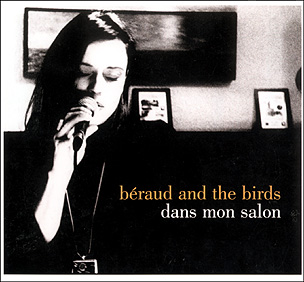 Artiste pluridisciplinaire pratiquant tant la chanson que l'écriture ou les arts plastiques, Marie-Laure Béraud a elle-même assuré la production et la réalisation de l'album Dans mon salon, le 3ème après Elle et Turbigo 12-12. Ce dernier, produit par Chaz Jankel, ex-guitariste, arrangeur et compositeur de Ian Dury and the Blockheads, remporta en 1993 le Grand Prix de l'Académie Charles Cros. De nombreux concerts en Europe, à New York, au Canada s'ensuivront. Rappelons que Mick Ronson, qui fut guitariste de David Bowie, avait déjà collaboré avec Marie-Laure, en 1987, en produisant deux de ses chansons.
L'album est paru au Canada sous le label "La Factrie" et est disponible uniquement en import pour l'heure. Un nouvel album jazz est en préparation avec Charles Loos au piano, François Verrue à la contrebasse et Yannick Dupont à la batterie.