Le premier opus de Willy Willy & The Voodoo Band avait de quoi décoiffer alors que l'album était majoritairement composé de classiques. Quelques excellentes compos personnelles laissaient présager le meilleur...
HELZAPOPPIN' marque le retour flamboyant du fils bâtard de Keith Richards !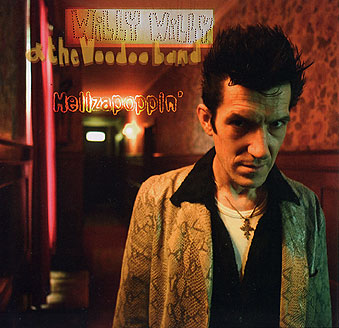 Willy Willy et son complice Patrick Riguelle, également aux instruments et à la production, signent 9 titres sur les 11 que compte le nouvel album.
Tantôt percutants comme White Trash Rock'n Roll, hymne phare de l'album, lancinants tel Bazoom ! ou encore suants les roots dans Birdlime Boogie. Les changements de rythme sont constants, les guitares sonnantes et non trébuchantes.
L'ex lead guitarist de Revenge 88, Arbeid Adelt !, Vaya Con Dios, The Scabs, The Domino's n'a plus à prouver qu'il sait se servir d'une gratte et balance des riffs tranchants comme des lames de rasoir où et quand il faut. Pas de langueur ni de longueur monotones. Rock'n'roll pur jus, rockabilly, blues, boogie, un soupçon de traditional, une pincée de country... cela va droit au but.
Willy Willy est accompagné par RC Stock à la basse et Marty De Wagter aux drums, ses sorciers habituels, Wigbert, avec qui il a effectué récemment une tournée acoustique, Hans Quaghebeur et Daringman, qui intègre dorénavant le band sur scène. Sans oublier la participation de la sublime BJ Scott, sa sœur de cœur.
Go to Hell... with Helzapoppin' !
---
Présentation d'Hellzapoppin' à l'AB... Les photos !.
---
PRESS REVUE

Het Nieuwsblad

Mick Devil


Crossroads - Jean-Do Bernard

---
New Single Release "White Trash Rock'n Roll" audio sample on
Willy Willy
---


Willy Willy & the Voodoo Band - Shaky 3 Records 2 2005 - Distributed by BANG ! BC0429